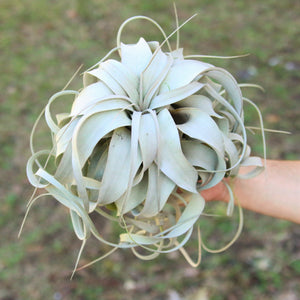 About your Xerographica Air Plant - Spectacular Tillandsia Xerographica plant is the most stunning plant we have. Silvery light green in color, Xerographica is one of the more rare varieties. Its thick, wide leaves form a tight rosette of curls with the thin, spiky new growth sprouting from the center adding a beautiful contrast in form. Is often considered the king of all tillandsia air plants. Growing xerographica houseplants is relatively simple. Easy to maintain...hardy and durable. Child and pet-friendly.
Size - They are large sized, approximately 8-10 inches wide, and 4-5 inches tall. Display on shelf, table or counter. 
Light - Medium to low indirect light. No direct sun. Display them in a room with lots of window space.
Water - Tillandsias require no soil. Submerge your xerographica plant in a bowl of water every week or two. Decrease watering to once every three weeks during the winter months. Shake the plant gently to remove excess water, then place it upside-down on an absorbent towel until the leaves are thoroughly dry. Avoid direct sunlight while the plant is drying.

Preferred Rooms - Kitchen, bath, family or bedroom.
What comes with your plant -  Includes its own care instructions. 
Gifting? Add a Gift Message - If you are sending your plant as a gift to a family member or friend, you can add a personalized message at the Check Out page.