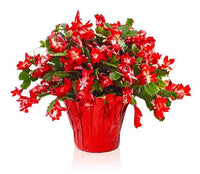 Send a beautiful Christmas Cactus to a friend. Anywhere in the USA.
No flowers says Christmas like the beautiful Christmas Cactus wrapped in holiday foil. Available in Red and Pink. Living Art USA will deliver your holiday plants to friends and family anywhere in the USA.
Shop Christmas Cactus
Living Art USA is the Green way to shop.
Eco-Simple
Shop from home! We've done the hard work by selecting vibrant, easy to care plant varieties perfect for any urban home or office. Simply place your order and enjoy your beautiful plants when they arrive. We ship Priority Mail anywhere in the USA.
Eco-Friendly
We care about our planet's sustainability. All our products are eco-friendly. Our containers and packaging are made from 100% recyclable materials and packed carefully so your plant gets to you safely without any mess. We are Pet & Child-safe, too.
Eco-Smart
Each Plant comes with easy to follow growing instructions to take the stress out of plant ownership. Plus, our staff is eager to answer any questions that you have regarding your new plant selection and care. Living Art USA's the smart choice.
Child & Pet-Friendly Plants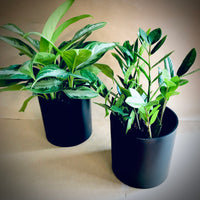 Join our 2 for 1 Monthly Subscription...
Each month, you get ANY 2 plants for the price of one.
Our monthly subscription is simple. Each month, you order any 2 plants and only pay the price for one. Just let us know what two plants and we'll deliver them right to your door.  Remember...you pay for only 1 plant.


Order 2 for 1 Online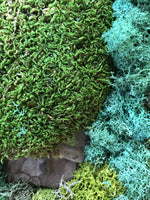 Nature Frames
Now featuring Marquette Park and Wells Street Beach Nature Frames!
Each frame in this collection is hand-made from live, sustainably harvested moss so each one is unique and different... each a reflection of nature and wildlife conservation. 
The Nature Frame Collection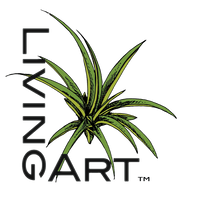 Our Mission...Making the World a Greener Place.
Living Art USA deeply cares about our planet and is proud to have a business that, with your help, gives back to nature. We provide vibrant, 100% eco-friendly, easy-care greenery for urban homes, apartments and offices which help you breathe, feel and perform better.
Customer Reviews
"The plants are absolutely beautiful. Very well cared for! Thank you so much! They've certainly brightened up my day."
Jeff H. Chicago, IL
"It came so well wrapped. So well priced, too!"
Audrey H. New York, NY
"Thank you so much! Wow, these plants look fantastic!!! I really appreciate the speedy service! Wow!"
Spencer S. Chicago IL
"Half way across the country and looks just like it did in your ad!! PERFECT. Just what I needed...cabin fever from the virus. You made my day!! Thanks"
Greta M. Carpinteria, CA
"Second time I have ordered a plant as a gift instead of flowers. I give them 5 stars!! The plant has always shipped out very quickly. Healthy plants and they arrived looking great. It was very easy and I will be ordering again."
Ann M. River Forest, IL
"Extremely user friendly website and I received my plants in great condition and super fast! The plants are exactly what I was looking for to add some green into my living room in the city. The quality of the plants are amazing and I am excited for the low maintenance and easy care that the instructions provided!"
Simone A. Aruba Island
"Perfectly packaged. Easy to read notes on caring for your plant."
Jen F. River Forest, IL
"I cannot express enough how exciting it was to receive such a lovely well packaged and delivered plant. It is absolutely beautiful."
Cherie C. Cleveland, OH
"Thank You! They are beautiful and delivered in perfect condition."
Kevin F. Chicago IL
"I gifted a plant to a dear friend and she called letting my know the plant arrived in Connecticut packed so carefully. Every leaf in place and in a self draining pot. She was thrilled as was I. This is my 4th order and I couldn't be more pleased. Thank you."
"Love love love my plants and all the people I sent them to also were so happy. Everyone comments on the drainage pots. Really wonderful. This is becoming my go to gift. Also sent a small set of cactus to my granddaughter. She is learning how to be responsible by watering her plants every two weeks. So happy with my purchases. Thank you!"
Sera A. River Forest, IL
"I can't believe how quickly I received my package. My plants were wrapped beautifully, very happy with my purchase."
Dessalina D. Oak Park, IL
Loving my plants from Living Art USA! I got a cast iron and a Boston fern - I have a dog that is rather mischievous, so I'm happy they're both pet friendly 😊 they came quickly and well packaged and the instructions are super helpful. They're so beautiful; they brighten my day!
Sarah S. Chicago, IL
"Ours was packaged to perfection!!"
Marilyn B. Hinsdale, IL