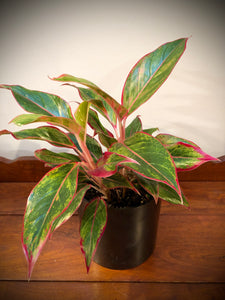 The Pink Aglaonema Story -  Ultra Pink Colorful Aglaonema sports large red-pink leaves artfully edged in dark green. It's a bold choice for adding year-round ... The Thai Aglaonema or otherwise known as the 'Lucky Plant' has for centuries been cultivated in Asian countries as an indoor ornamental foliage plant and considered a bringer of fortune. Its longevity, ease of growth and striking appearance were thought beneficial to the well-being and financial success of the residents who grew it. Those pink and lime tones are sure to be a talking point.

Size - Medium-size plant. 16-24" tall (including pot).

Light - Thrives in low to medium indirect light. Place your plant in an area that is out of direct sunlight. Inside your home, place it near a north window. The plant often shows the best color in medium or indirect light indoors. In most areas, it can take some direct sun on the leaves

Water - Keep soil moist but not soggy by allowing your growing medium to dry slightly between watering. Roots may rot if you keep the soil too moist and plants may drop their leaves if the soil becomes too dry.

Preferred Rooms - Perfect for the family, living room or home office. Best in a warm room, it loves heat & humidity.

What comes with your plant -  Includes its own 6" Recycled container and care instructions. 

100% Satisfaction Guarantee - Within the first 30 days, if you are not completely satisfied, we will replace your plant at our cost.

Gifting? Add a Gift Message - If you are sending your plant as a gift to a family member or friend, you can add a personalized message at the Check Out page.