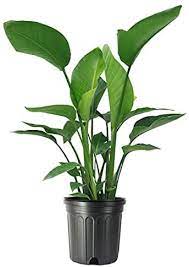 About your Bird of Paradise - This is a stunning tropical plant, easy to care for and an excellent houseplant. The leaves of the Bird of Paradise naturally are split. As it matures, it develops slits in the leaves which actually serve a function. During heavy tropical rains, the wind passes right through the leaves without damaging the plant. This plant is Chicagoland Delivery Only
Size - Medium-size plant. 4-5' tall (including pot). 
Light - Thrives in bright indirect light. 
Water - Water every 1-2 weeks. Allow soil to dry out above 50% between watering.
Preferred Rooms - Perfect for the family room, living room, hallway or home office.
What comes with your plant - Includes its own 10" black grow pot container and care instructions.  
100% Satisfaction Guarantee

 - 
Within the first 10 days, if you are not completely
satisfied,
we will replace your plant at our cost.