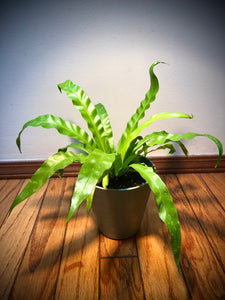 About your Birdsnest Fern- The Birdsnest Fern with its long, waxy, apple-green fronds...sends us daydreaming to a tropical paradise. It gets its name from the fact that the center of the plant resembles a bird's nest. Child and Pet-Friendly.
Size - Medium-size for shelf or counter. 12-18" tall (including pot). 
Light - Thrives in medium to bright direct light. 
Water - Water every week. Don't let soil dry out. Keep soil moist at all times.  
Preferred Rooms - Needs humidity. Suitable for kitchen and bathroom.  
What comes with your plant -  Includes its own 6" recycled container and care instructions. 
100% Satisfaction Guarantee

 - 
Within the first 30 days, if you are not completely
satisfied,
we will replace your plant at our cost.
Gifting? Add a Gift Message - If you are sending your plant as a gift to a family member or friend, you can add a personalized message at the Check Out page.