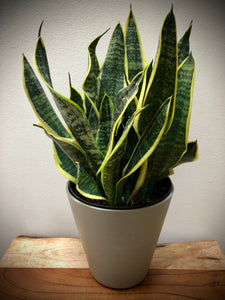 About your Snake Plant - The Sansevieria, or known as its more common name, Snake Plant, is a classic houseplant that has gained popularity in modern and contemporary decor because of it's architectural linear leaves and varieties of colors. It is the ideal houseplant and can adapt to any environment. The Snake Plant is very forgiving and will tolerate neglect. Sansevieria vary in size and look great on shelves, tabletops and as accent floor plants.
Size - Medium-size, shelf or counter plant. 12-16" tall (including pot). 
Light - Thrives in medium to bright indirect light. 
Water - Water every 2-3 weeks allowing soil to dry out completely between watering.  
Preferred Rooms - Suitable for all rooms including home office.
What comes with your plant -  Includes its own 6" Recycled container and care instructions. 
100% Satisfaction Guarantee

 - 
Within the first 30 days, if you are not completely satisfied, we will replace your plant at our cost.
Gifting? Add a Gift Message - If you are sending your plant as a gift to a family member or friend, you can add a personalized message at the Check Out page.