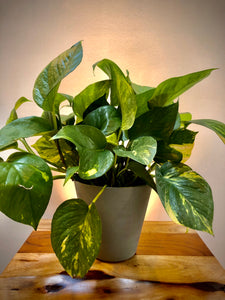 Pothos Plant Care. The Pothos is a great beginner plant. Super easy to maintain. Pothos is arguably one of the easiest plants to grow, even if you're someone who forgets to water your plants often enough. Medium to low indirect light. No direct sun. Water every 1-2 weeks. Allow soil to dry out before watering. Looks good in any room in your home.
Our Eco-Friendly, No Mess Packaging. Our packaging is made from eco-friendly, recycled materials. Each eco-friendly package is designed to hold your plant and pot securely in place so it gets to you safely and without a mess. It's eco-simple and eco-smart.

No mess. Each eco-friendly package contains 4 separate compartments to hold your plant and pot securely in place.

What comes with your plant -  Includes its own 6" Recycled container and care instructions. 

Ready to grow. Just remove your plant from our secured, eco-friendly packaging and you are ready to go.

100% Satisfaction Guarantee. Within 30 days, if you are not completely satisfied, we will replace your plant at our cost.