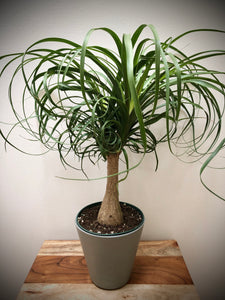 About your Ponytail Palm - Easy to maintain...hardy and durable. Ponytail Palms are the perfect plant for those of you who are business travelers. Their round trunk is used to store water for long periods of time. Native to eastern Mexico, this tree is not actually related to a palm tree despite its common name. It is a member of the agave family and considered a succulent. Child and pet-friendly.

Size - Medium-size, shelf or counter plant. 14-16" tall (including pot). 
Light - Thrives in as much indirect sunlight as possible. 
Water - Water every 2-3 weeks. Allow soil to dry out between watering. Water thoroughly. 
Preferred Rooms - Suitable for all rooms including home office.
What comes with your plant -  Includes its own 6" Recycled container and care instructions. 
100% Satisfaction Guarantee - Within the first 30 days, if you are not completely satisfied, we will replace your plant at our cost.
Gifting? Add a Gift Message - If you are sending your plant as a gift to a family member or friend, you can add a personalized message at the Check Out page.