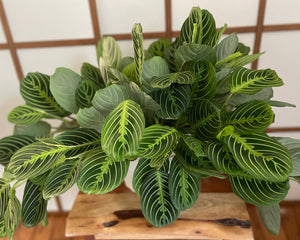 About your Prayer Plant (Maranta) - The Prayer Plant gets its name from the way the leaves fold in the evening because they resemble hands folded in prayer. They are native to the rainforests of Brazil, and although this houseplant is somewhat tolerant of low light conditions, the Prayer Plant prefers bright, indirect sunlight and high humidity. Child and pet-friendly.
Size - Medium-size plant. 10-14" tall (including pot). 
Light - Thrives in medium to bright indirect light. 
Water - Water every 1-2 weeks. Allow soil to dry out above 50% between watering.. 
Preferred Rooms - Perfect for the bedroom, living room or home office.
What comes with your plant -  Includes its own grow container and care instructions. 
100% Satisfaction Guarantee - Within the first 30 days, if you are not completely satisfied, we will replace your plant at our cost.

Gifting? Add a Gift Message - If you are sending your plant as a gift to a family member or friend, you can add a personalized message at the Check Out page.