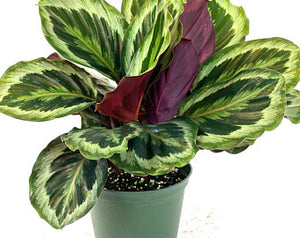 About your Calathea Medallion - Part of the prayer plant family, the stunning Calathea Medallion is arguably one of Mother Nature's most beautiful creations. Its large, "medallion"-like leaves appear to be painted with brushstrokes of deep green and fuschia tones, flourishing out into a bouquet of unmistakable, colorful foliage. As a member of the Prayer Plant family, they raise their leaves at night like praying. In the evening, the leaves of calathea plants fold upright at the base of the stem, as if the plant is folding its leaves upward to pray. This process is called nyctinasty.
Size - Medium-size. 10-14" tall (including pot)
Light - Thrives in medium to bright indirect light. Morning sunlight is fine, but it's best to avoid intense afternoon sunlight. 

Water - Water every 1-2 weeks.
Keep the soil evenly moist, never allowing it to completely dry out
When watering, take care not let the plant become oversaturated or waterlogged
Preferred Rooms - Perfect for the bedroom, living room or home office.
What comes with your plant -  Includes its own 6" Recycled container and care instructions. 
100% Satisfaction Guarantee

 - 
Within the first 30 days, if you are not completely
satisfied,
we will replace your plant at our cost.  
Gifting? Add a Gift Message - If you are sending your plant as a gift to a family member or friend, you can add a personalized message at the Check Out page.