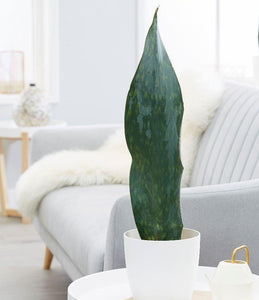 The Shark Fin Story - When we first saw this amazing Sansevieria, we had to add it to our shop. That's because, it is so stunning. The plant has only one leaf, but what a leaf, it looks like a shark's fin swimming through your home and it's so easy to grow. It is perfect for the novice. In a NASA study, it was named one of the top 3 best houseplants for cleaning the air. Sanseverias masoniana, unlike many house plants, give oxygen off at night. A great plant to have in your bedroom to help you sleep and breath better.
Size - Medium size plant. 18-24" tall (including pot).

Light - They prefer bright, mostly indirect light, but will tolerate shade.

Water - The main thing to avoid with this plant is over-watering, so only water (avoiding the crown) when the compost gets quite dry. In winter you can cut back even more and only water every month  

Preferred Rooms - Perfect for the kitchen, bedroom or home office. 
What comes with your plant - Comes in Brown Grow Pot container and care instructions. The container in photo is not included.

100% Satisfaction Guarantee - Within the first 30 days, if you are not completely satisfied, we will replace your plant at our cost.

Gifting? Add a Gift Message - If you are sending your plant as a gift to a family member or friend, you can add a personalized message at the Check Out page.