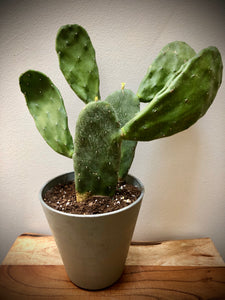 About your Prickly Pear Cactus - Prickly Pear is a cactus that bears numerous deep red, juicy-sweet fruits. This one is currently in bloom. Early historic observations and archeological data clearly indicate Native Americans relied on prickly pear for food, medicine, and as a source of needles, containers, and water. Prickly pear gets its name from numerous spines borne on the stems, and the seasonal fruits known as pears or tunas. The long spines (the prickly part of the name) are actually modified leaves that harden as they age. Technically, the plant's "branches," known as pads or nopales, are succulent, evergreen stem segments. The fruit begins to ripen in midsummer to a deep red color and produces a very sweet purple-red juice.
Size - Medium-size, shelf or counter plant. 14-18" tall (including pot). This cactus can be pruned.
Light - Medium to bright direct light. Preferable next to a sunny window.
Water - Water thoroughly when soil becomes dry to the touch. Once a month.
Preferred Rooms - Living, family room or home office.
What comes with your plant -  Includes its own 6" Recycled container and care instructions. 
100% Satisfaction Guarantee

 - 
Within the first 30 days, if you are not completely
satisfied,
we will replace your plant at our cost.
Gifting? Add a Gift Message - If you are sending your plant as a gift to a family member or friend, you can add a personalized message at the Check Out page.