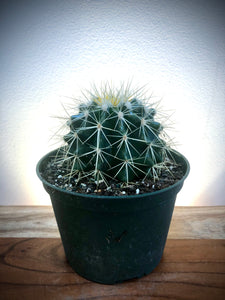 About your Barrel Cactus - The aptly named golden barrel cactus (Echinocactus grusonii) is now quite rare in its native habit, but it is frequently grown in cultivation as a houseplant.  Amusingly, this prickly plant's nickname is "mother-in-law cushion."
Barrel cacti, as the name implies, are almost perfectly round when juvenile, so they make excellent display plants. They are highly attractive, with the evenly spaced rows or spines on their deeply ribbed lobes. As they grow, it's not uncommon for them to stretch out so they are more oval than circular. As with most cacti, the secret to successful indoor growth is nearly perfect drainage, as opposed to letting them dry out. Easy to maintain...hardy and durable. 
Size - Medium-size, shelf or counter plant. 10-12" tall (including pot). 
Light - Medium to bright direct light. Preferable next to a sunny window.
Water - Water thoroughly when soil becomes dry to the touch. Once a month.
Preferred Rooms - Living, kitchen, family room or home office.
What comes with your plant -  Includes its own 6" Recycled container and care instructions. Discard the coco fiber & straw used to hold the soil in place.
100% Satisfaction Guarantee

 - 
Within the first 30 days, if you are not completely
satisfied,
we will replace your plant at our cost.
Gifting? Add a Gift Message
If you are sending your plant as a gift to a family member or friend, you can add a personalized message at the Check Out page.