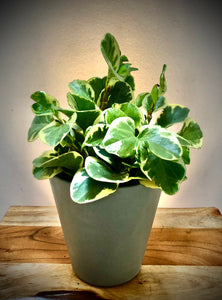 About your Variegated Peperomia Plant - The Peperomia's home is Brazil, where it is said...the Peperomia is a reminder that "everything will be all right" especially during this pandemic. The Peperomia Plant is a messenger of hope and will bring love and happiness to your home. Easy to maintain...hard and durable. The easy going Peperomia Plant is great for beginners. This attractive plant has spectacular colors and textures as well as being known to purify the air. Child and pet-friendly.
Size - Medium-size, shelf or counter plant. 8-12" tall (including pot). 
Light - Thrives in medium, indirect light. Np direct light.
Water - Water every 2-3 weeks. Allow soil to dry out completely before watering.  Water thoroughly. 
Preferred Rooms - Suitable for all rooms including home office.
What comes with your plant -  Includes its own 6" Recycled container and care instructions. 
100% Satisfaction Guarantee

 
- Within the first 30 days, if you are not completely
satisfied,
we will replace your plant at our cost.
Gifting? Add a Gift Message - If you are sending your plant as a gift to a family member or friend, you can add a personalized message at the Check Out page.