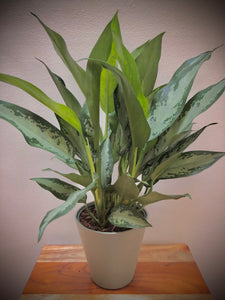 The Aglaonema Silver Queen Story - Aglaonema Silver Queen, commonly called Chinese evergreen, is one of the easiest plants for even novice gardeners to grow. Silver Queen is most commonly grown as a houseplant. It is forgiving of low-light conditions that make other plants struggle. Rarely exceeding heights of 3 feet, Chinese evergreen has a tidy, upright growth habit that makes it suitable for even small household nooks where you want to add a touch of greenery. If you consider its low-light and moist soil needs, growing Silver Queen is a snap.

Size - Medium-size plant. 16-24" tall (including pot).

Light - Thrives in low to medium indirect light. Place your plant in an area that is out of direct sunlight. Inside your home, place it near a north window. Outside, find a sheltered location, such as under trees or along the north side of your house.

Water - Keep soil moist but not soggy by allowing your growing medium to dry slightly between watering. Roots may rot if you keep the soil too moist and plants may drop their leaves if the soil becomes too dry.

Preferred Rooms - Perfect for the family, living room or home office. Best in a warm room, it loves heat & humidity.

What comes with your plant -  Includes its own 6" Recycled container and care instructions. 

100% Satisfaction Guarantee - Within the first 30 days, if you are not completely satisfied, we will replace your plant at our cost.

Gifting? Add a Gift Message - If you are sending your plant as a gift to a family member or friend, you can add a personalized message at the Check Out page.