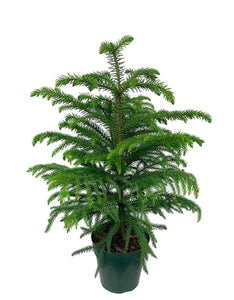 The Norfolk Island Pine Story - The Norfolk Island Pine (Araucaria heterophylla) is a tropical needled evergreen tree. Unlike most pines that are familiar to Midwesterners, the Norfolk Island pine is far too tender to plant outdoors in our climate and, in fact, is not a true pine at all. But the good news is that it makes an elegant houseplant. This tree is quite different from a typical pine. It is a tropical plant and as the name suggests, it is native to the Island of Norfolk, a tiny island near New Zealand.
Size - Medium-size plant. 24-36" tall (including pot). 
Light - They prefer bright, mostly indirect light from eastern or western windows.

Water - Water every week when the top of the soil dries out will help ensure longevity. Increased humidity in the winter also is necessary to keep these plants thriving indoors. 

Preferred Rooms - Perfect for the entrance way, family, living room or home office. 
What comes with your plant -  Includes its own 6" Recycled container and care instructions. 

100% Satisfaction Guarantee - Within the first 30 days, if you are not completely satisfied, we will replace your plant at our cost.

Gifting? Add a Gift Message - If you are sending your plant as a gift to a family member or friend, you can add a personalized message at the Check Out page.