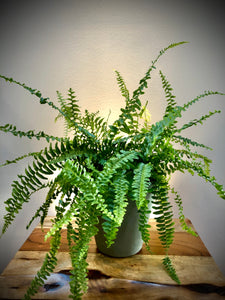 About your Fern - are attractive specimens with long, graceful fronds bedecked with tiny leaves. It is a relatively tough, easy to propagate fern that has a higher tolerance for light and dry conditions than other species. An added bonus is that Boston ferns can be displayed in any number of ways, including on pedestals, in hanging baskets, as part of a grouping, or as lush specimen plants on the right windowsill. Easy to maintain...hardy and durable. Child and pet-friendly.
Size - Medium-size, shelf or counter plant. 10-14" tall (including pot). 
Light - Medium to low indirect light. No direct sun.
Water - Ferns love humidity, so mist twice a week. Keep soil damp by watering every week.  
Preferred Rooms - Kitchen, bath, family or bedroom.
What comes with your plant -  Includes its own 6" Recycled container and care instructions. 
100% Satisfaction Guarantee - 
Within the first 30 days, if you are not completely
satisfied,
we will replace your plant at our cost.
Gifting? Add a Gift Message - If you are sending your plant as a gift to a family member or friend, you can add a personalized message at the Check Out page.